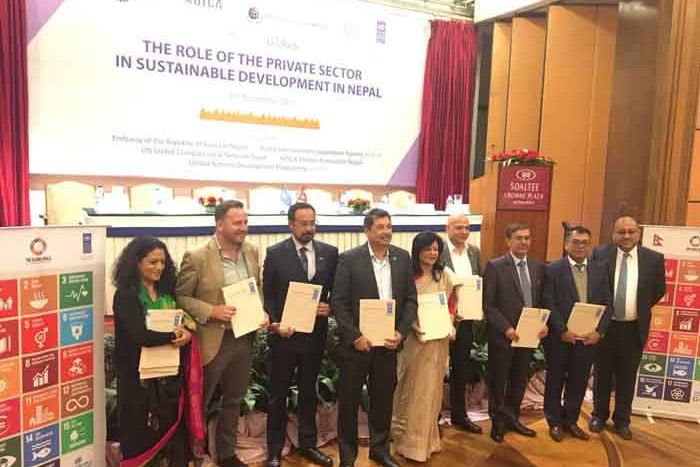 MOU Signed between Nepal Bankers' Association and United Nations Development Project
Kathmandu, Nepal: November 21, 2017, Nepal Bankers' Association participated in the Conference "Role of Private Sector in Sustainable Development in Nepal" Jointly organized by UN Global Compact (UNGC) Nepal Network, KOICA Alumni Association of Nepal (KAAN), UN Development Program (UNDP), Korea International Cooperation Agency (KOICA) and the Embassy of the Republic of Korea. The event took place at Soaltee Crown Plaza, Kathmandu.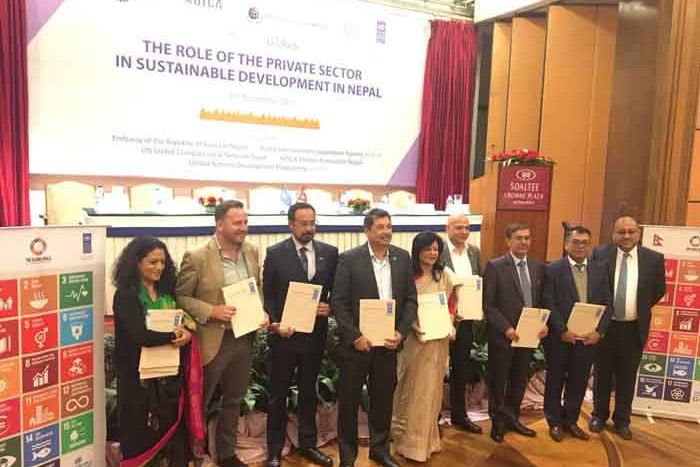 President of Nepal Bankers' Association, Mr. Anil K, Shah was one of the panel members for discussion on "Enabling business environment reform for private sector development in Nepal" along with Ms. Reeta Simha, First Vice President, the Federation of Women's Entrepreneurs of Nepal, Mr. Joonhyung Kim, Managerial Director, Nepal Water and Energy Development Company Pvt.Ltd., and Mr. Pradip Koirala, Joint Secretary, Ministry of Industry, where he spoke about the current scenario of private sector and its development. The knowledge and information shared during the session was enlightening.
During the Conference, Nepal Bankers' Association signed the Memorandum of Understanding (MoU), with United Nations Development program (UNDP) with an objective to,
1. Advocate jointly for private sector entities to adopt the agenda 2030 and the SDGs as part of their business development plans
2. Mobilize stakeholders and advocate for their contribution to the achievement of the Sustainable Development Goals.
3. Collaborate to undertake joint initiatives to foster the achievement of the sustainable Goals.
4. Jointly work on policy reforms in Nepal's business environment for private sector development