Nepal Bankers' Association signed a Letter of Cooperation (LoC) with USAID Trade and Competitiveness. The signing took place at NBA's office in Kathmandu between Mr. Sunil KC, President, Nepal Bankers' Association and Mr. Agnes Luz, Chief of Party, USAID Trade and Competitiveness.
Nepal Bankers' Association is an association of 'A' class commercial banks which was formed to develop a fair and healthy competition among the banks, to follow best practices in the policy and procedures of the banks, to develop and adopt creative and modern technology, to make the banks more effective and efficient, and to identify the problems and implement the remedies associated with the business of the banks an institution.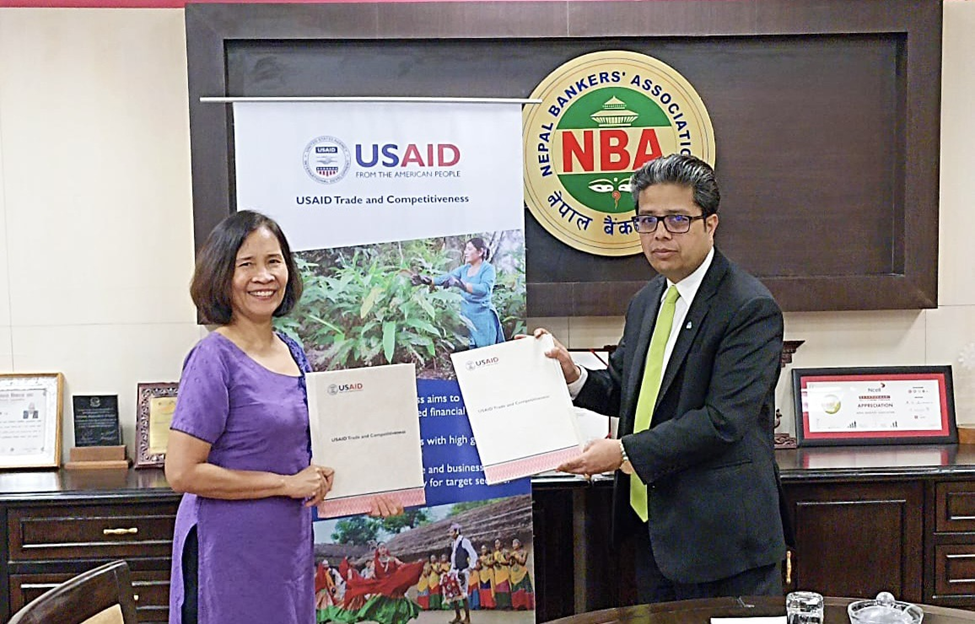 USAID Trade and Competitiveness is a five-year activity that aims to chart a new path of growth for the Nepali economy as it recovers from the COVID-19 pandemic. The activity helps Nepal capitalize on global integration by diversifying its economy toward higher quality and value exports, fostering sustainable job growth and income-generating opportunities for those previously left behind by economic growth, and creating greater sustainability and resiliency.
The primary goal of this engagement is to work together in advancing initiatives that will address constraints and challenges faced by entrepreneurs and businesses, including identification and implementation of the best strategy options in the near, medium, and long term as well in championing reform agendas that will improve access to finance of SMEs', especially those in the Activity's priority sectors towards improved competitiveness and inclusive economic growth.
The collaboration between the two parties will carry out several initiatives such as public-private dialogues (PPDs) on various policy issues and challenges, training and other capacity building activities, studies that will inform policy reform agenda and develop sector development strategies to improve inclusive access to finance and mobilize more investment.