Nepal Bankers' Association (NBA) in collaboration with Invest for Impact Nepal (IIN) successfully organized a program on "Moving Towards Sustainable Financing in Nepal". The primary objective of the program was to deliberate on current status of Sustainable Financing in Nepal, identify necessary actions to address existing challenges and encourage BFIs towards Sustainable Financing.
NBA President, Mr. Sunil KC warmly welcomed everyone and emphasized that the adoption of Sustainable Finance principles not only bolsters the resilience of financial institutions, but it also extends positive impacts to clients, communities and nation at large. Furthermore, he highlighted that the effective risk management is integral to Sustainable Finance and that the successful implementation of the ESRM guidelines hinges upon well-trained professional with in the banking industry. Mr. KC also shared NBA's vision for promoting Sustainable Financing in Nepal.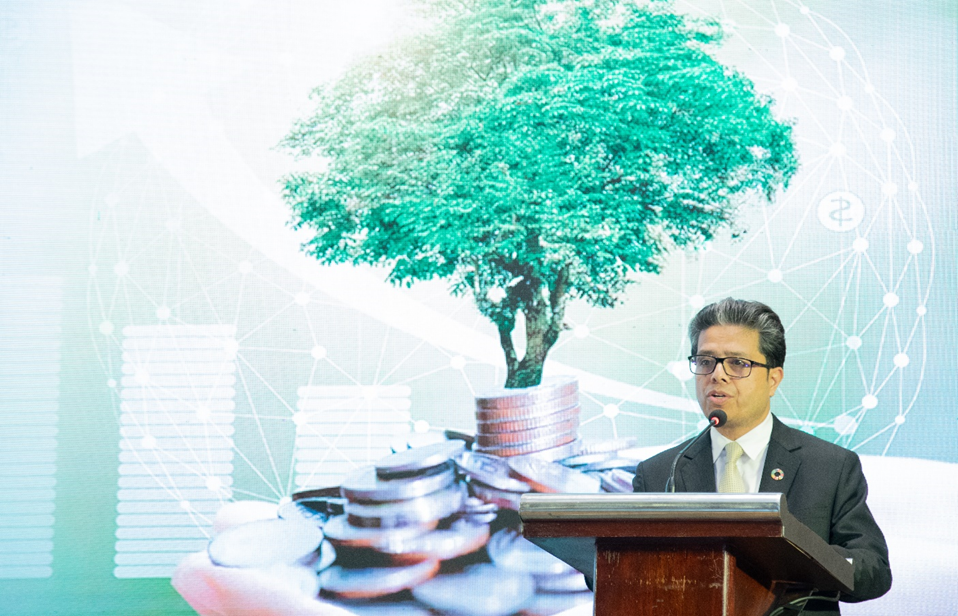 During the event, Dr. Prasad Modak, Managing Director, Environmental Management Centre (EMC), India presented an executive summary of ESG Benchmarking Study conducted in coordination with NBA and IIN, covering the current situation of ESG Implementation in Nepali banks, the achievements made in ESG issue, existing regulatory framework and the aspects that need to be improved to strengthen Sustainable Financing in Nepal.
Dr. Marcos Eguiguren, Associate Provost Director International Centre in Sustainable Finance, University of Pompei Fabra, Barcelona School of Management made his presentation focusing on theoretical understanding, international practices and various aspects related to Sustainable Financing.
The Special Guest of the program, Mr. Michael Jongeneel, Chief Executive Officer, FMO spoke about the programs and collaborations that FMO is doing in relation to Sustainable Financing and shared his thoughts on the subject matter.
The program also marked the launch of ESG Certification Course managed by NBA and delivered by University Pompeu Fabra – Barcelona School of Management (UPF-BSM). The program was launched jointly by Dr. Neelam Dhungana Timsina, Acting Governor, Nepal Rastra Bank and Mr. Michael Jongeneel, CEO, FMO.
The certified course is set under three main pillars – Essence and History of ESG, Regulatory Framework and Practical Approach, which consists 5 modules. It is believed that this course will play a vital role in producing experts by enhancing the knowledge, skills and abilities related to Sustainable Financing in Nepal.
The Chief Guest of the program Dr. Neelam Dhungana Timsina shed light on the policy steps taken by the Nepal Rastra Bank on Sustainable Financing and the efforts made to make it more effective. She also expressed best wishes for the success of the ESG Certified Course.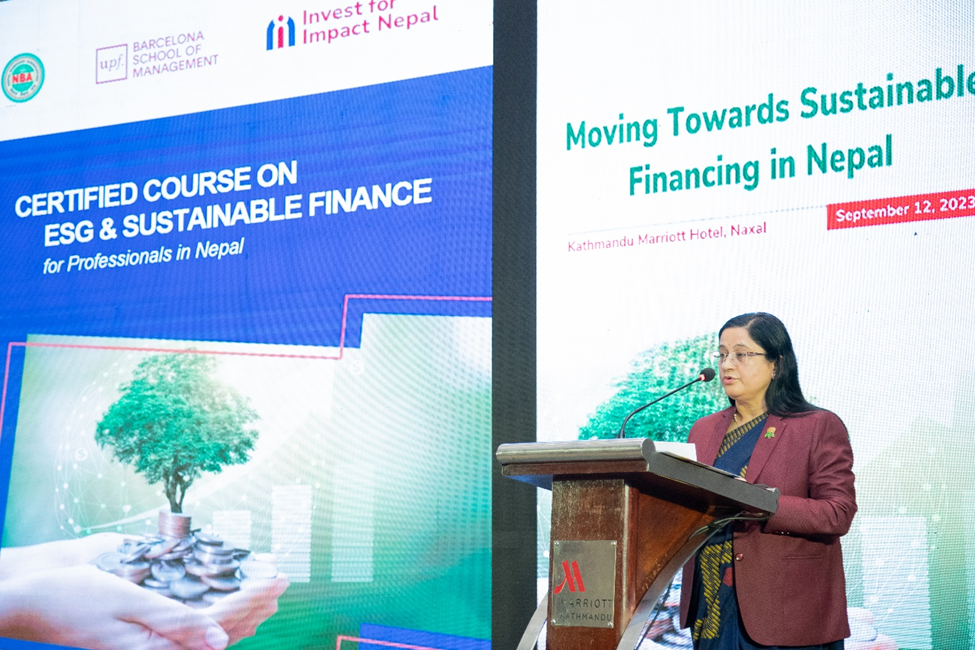 At the end of the event, NBA Executive Director, Mr. Anil Sharma extended his gratitude to everyone for their presence and unwavering support.
The program was participated by the Executive Directors of Nepal Rastra Bank; representatives from various private sector associations and organizations; officials from CBFIN; CEOs from banks and financial institutions, micro finance, insurance companies; representatives from various development partner agencies; and media personnels.